Mother Mary Celine elevated as the 'Servant of God'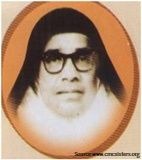 Mother Mary Celine of the Congregation of the Mother of Carmel, was elevated as the 'Servant of God' on 9th April 2018, the first step on the way to sainthood. The ceremony was held under the guidance of His Eminence Cardinal Mar George Alencherry, Major Archbishop of Syro-Malabar Church. Auxiliary Bishops of Ernakulam-Angamaly Archdiocese His Excellency Sebastian Adayantharath and His Excellency Jose Puthenveettil also participated in the ceremony.
Mother Mary Celine was born on July 4, 1906, as the seventh child of Ouseph Payyappilly and Kochumariam in Muzhikulam. She became a CMC sister in 1928. After securing BA from Maharajas College, Ernakulam, she worked as a teacher in Ollur, Karukutty. She was later elected first as the Superior General of Ernakulam and Kothamangalam Provinces and then the Superior General of the whole CMC Congregation. Her intense deep prayer life, the spirit of sacrifice and foresight enabled Mother Mary Celine to overcome the difficulties and struggles of unification and the beginning of the Central House Generalate at Thaikattukara, Aluva. She could start the juniorate there with the help of the seminary professors at Mangalappuzha. During her 11-year term as Superior General, she was able to bring about a spirit of prayer and unity among the members. In 1974 she retired and entered into deep prayer life at Sanjoe Bhavan, Karukutty. She died on April 23, 1993.